Radioactive Thorium Reconstituted Stone Pendant - Negative Ion Energy Ju-Ju
5 months 1 week ago
#6481
by Simomax
I found a new variation of the pendant. A white Ju-Ju pendant. I think there are loads of variations but this seems a new one. I have one on the way so will let you know about it when it arrives. 
https://www.aliexpress.com/item/4000030351480.html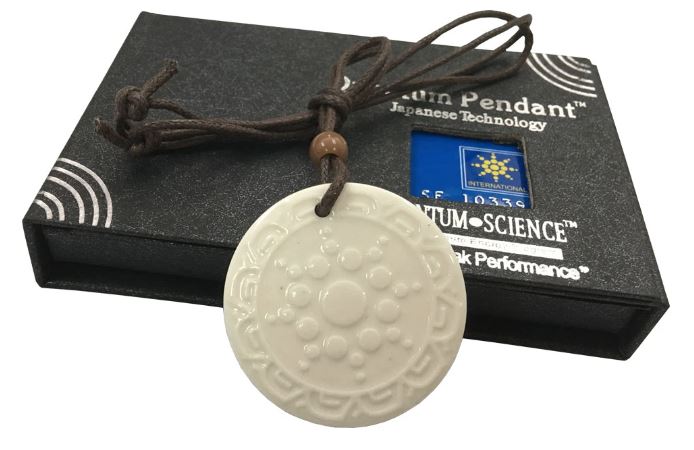 Please Log in or Create an account to join the conversation.
4 months 2 weeks ago
-
4 months 2 weeks ago
#6535
by Simomax
This is the latest Negative Ion Energy Ju-Ju pendant. It's kinda pretty. 
https://www.aliexpress.com/item/4000030351480.html
The sales bumf is as such:
EBUTY White Lava Stone Pendant with FIR Germanium Negative Ions Energy Balls Therapy Jewelry Health Gift With Box

Functions:
1,Promote blood circulation.
2,Promotes quality of sleep.
3,Enhancement or Normalization of human immunity function.
4,Strengthen the body's biological energy field to prevent harmful electromagnetic waves.
5,improve our balance,flexibility and sleep,enhance physical fitness.
6,Harmless to skin just for help body!

Warming Tips:
1,Each pendant comes with a card & gift box.(There is various cards.We might send it at random.)
2,Normally model is about 2000 Negative ions.(This level ion is enough for our health.If you need energy level is up to 6000CC,pls contact us via trademanager.If more than 10000cc,it would be BAD to our health.Pls kindly know this.)
3,Higher ions could be done.But MOQ is 500pcs.
4,Customized logo / pattern could be done.
5,About shipping,if you do not get package in expected time,pls contact us before open dispute.We would track and urge shipping agency to rush it.
6,Any suggestion or idea about our products or us,pls kindly write to us freely.We would appreciate it much!
It has the usual box and authenticity card:
I suspect this is made in the same way as the other pendants, only using different materials. It looks like ceramic, but it is a resin mix. It doesn't feel cold to the touch like ceramic, and also has some bubbles in it (shown below) which pretty much proves this was poured from a liquid. It is very smooth, much smoother than the stone coloured pendants. It sounds a little like ceramic when hit with a metal object (lightly of course!) but just doesn't have that higher pitch ring like ceramic has. I suspect it is something similar to composite wall tiles,  but with added quantum science negative ion Ju-Ju goodness!
The little dots on the rear are stuck down with a thin layer of quite flexible glue and they were easy to prise off. The little black dots are magnetic. The sales pitch states the dark dots are
Germanium
. They aren't. Germanium is 
diamagnetic
, not magnetic. Germanium is also a silver-white colour, not dark grey/black.
This is Germanium:
Here you can see the two black dots and the pink dot. I suspect the pink dot is also some resin composite and the same for the black dots after looking at them under a microscope.
I measured the pendant and the little dots with Geiger counter. The pendant is hotter on the rear than the front, but not much at only 0.65 uSv/hr. The black dots show no radiation but the pink dot does. This came in at around 0.3 uSv/hr, so for it's mass it is more concentrated than the whole pendant. I haven't put this under my Radiacode to see if this is Thorium or something else ass I suspect it is Thorium. Everything I have had so far from Aliexpress
I put the pendant and the dots under the microscope. The pendant has some little dark spots over it. These seem to be brownish in colour and are under little bubbles in the resin.
Then I looked at the dots under the microscope. Both the black and the pink dots appear to be a similar composite resin as this and the other pendants. They do not appear to be solid minerals that have been polished. You can see what looks like pouring marks on the rear of the black one. Also apparent on the pink one, but not as much.
And finally some microscope images of the pink dot at greater magnification:
And that just about wraps up another of these crazy radioactive pendants. Imagine if someone was wearing one, and the pink dot fell off and a toddler.......... Yeah.... They should be banned. But as they are not, I will keep on buying the odd one to see what they are all about. I wonder if the UK HSE would be willing to do something about banning them coming into this country? It might be worth sending an email and I can point them right to this thread. That wouldn't stop it happening in other countries though. If anyone is interested in the original high-res images (for any of these posts), let me know and I will put them somewhere to download.
Last edit: 4 months 2 weeks ago by
Simomax
.
Please Log in or Create an account to join the conversation.
4 months 1 week ago
#6552
by Juzzie
This is truly amazing.
---
Owner and operator of "southofhobart" monitoring stations.
Please Log in or Create an account to join the conversation.
Time to create page: 0.211 seconds
Solar powered Raspberry Pi 4 server stats: CPU 64% Memory 13% Swap 17% CPU temp=45.7'C Uptime 19 Days