More Negative Ion Energy Ju-Ju - 'Quantum Energy Pen - Zero Ponit Nano Wand'
4 months 1 day ago
-
4 months 1 day ago
#6464
by Simomax
'Ponit' !!! LMAO 

Yes, another potentially dangerous Ju-Ju device. Thanks to FSM19 for pointing me to this. It is rather interesting. It comes in a little black cardboard case but sadly no authenticity card. It does have a little leaflet inside (below) with the usual bullshit and spelling/grammar errors to boot. The text isn't even complete and ends with 'and improves nutrient take up by the' and that is it! Muppetry at it's finest. 

Its a very interesting piece. Much like all of these DNA obliterating trinkets from China, interesting. It is a stainless steel pen like, container, I think is the best description. It is sealed at one end and plugged at the other. The top end doesn't unscrew that I can tell easily. It weighs 29.7 grams and feels pretty sturdy, and I think will take some force to bend it. Not that I have tried, much, just a little effort as I don't want to break this thing without a controlled environment, which I don't have right now. I do intend on dismantling one (as I bought two) to see what is inside it. I have a feeling it may be the same stuff as in the stone pendants, that resin type stuff, but I could be wrong as that Thorium glass pendant really surprised me that they existed.

 

 

It is more radioactive than I had assumed after FSM19 saying his was a slight rise above background. I am getting about 1.1 uSv/hr on my Radiacode and just short of 1.6 uSv/hr when measured with my GC10next. I did measure the other pen and that was less at 1.2 uSv/hr on my GC10next, so I think I will dismantle the weaker of the two and see what is inside.

 

 

It is also slightly magnetic at the tip and at the plug end. The clip also feels very slightly magnetic. This could be the type of steel used, or it could have a tiny magnet at the end. (After dismantling one I forgot to check inside the end of the tube/container. I have packed it already for disposal but could grab it back for a look. Not likely, but will see.)

 

And here is the leaflet in full with all the Chinese text in it's grammatical glory!

 

I setup a small station to dismantle one of these pens. More thrown together, very Heath Robinson style (and no, I didn't take any pictures - you would laugh!) with full complement of box'o'rubber gloves, big industrial wet wipes, 3M resporator, goggles I could hardly see through, bin (with two bags inside) hoover at the ready and some tools. After reading the leaflet I suspected there is powder inside this, and there was. Not a fun job to do in all honesty in case of powder getting into the air and landing 'somewhere'.

Using large pliers I managed to wiggle the plug out. It wasn't easy and well stuck at first, then seemed to give in and pop out. I then went on to remove the contents. They wouldn't come out at first and took some poking and moving about and the powder started to come out. After a little more poking and prodding a tube surprisingly dropped out filled with the powder, less the powder that had already come out. Continuing with dismantling I removed all of the powder from the tube and eventually decanted it into a small jar. Then cleaned up. I didn't take many pictures as I have to change gloves every time and increases the waste. Anyone know how to get rid of radioactive waste in the UK? 

This is the contents of the Ju-Ju pen. A plastic straw-like tube taped up at both ends filled with what I can only assume is some oxide of Thorium. Thorium oxide/dioxide, I don't know. I will put it on my Radiacode for some hours later and see if the spectrum shows anything, although I won't know the chemical composition.

 

 

And eventually decanted into a small jar. The contents of the jar, the Thorium (I suspect) powder weighs 1.86 grams. I don't know how they measure the volume during production. They may insert a fixed weight, or simply full the tube the best they do and tape the end up. Could be a machine, or by hand.

 

 

Finally a quick measure of the powder on the Radiacode is showing around 1.5 uSv/hr although it has peaked for a short time at over 2 uSv/hr

 

And that just about wraps up another potentially very dangerous negative ion energy Ju-Ju quack device. I would not advise anyone to dismantle one of these pens and if you do then take good precautions. Things are only as dangerous as the idiot handling them! 
Last edit: 4 months 1 day ago by
Simomax
.
Please Log in or Create an account to join the conversation.
4 months 10 hours ago
#6466
by FSM19
Mine was threaded, with a small brass insert in the tube - I grasped the tube in a small vice, and used a pair of mini-molegrips. I re-fitted the top with a drop of Threadlock.
Please Log in or Create an account to join the conversation.
4 months 2 hours ago
#6467
by Simomax
Ahh, I see. Maybe mine was screwed also. If it was, it was screwed tight as I couldn't budge it with two pairs of pliers. I left the powder on my Radiacode for a few hours and the powder is most likely Thorium, and after a little research it would seem to be Thorium dioxide. This powder is probably mixed with the resin and other stuff to make those pendants.
This is the spectrum: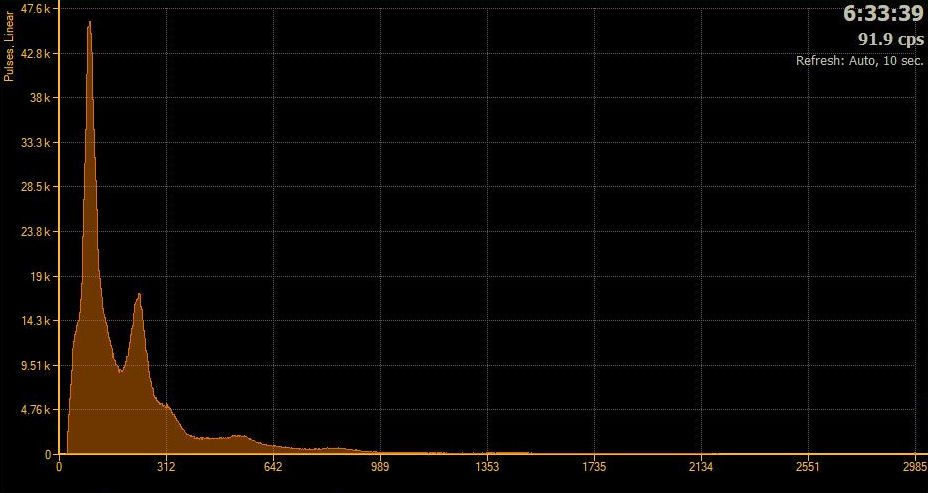 Please Log in or Create an account to join the conversation.
Time to create page: 0.202 seconds
Solar powered Raspberry Pi 4 server stats: CPU 68% Memory 15% Swap 18% CPU temp=62.3'C Uptime 42 Days